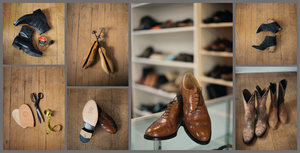 Cobblestone Shoe &
Leather Repair
Are your soles worn out, causing your feet to get wet when it rains? Or do your heels make a loud clicking noise in the office hallway? We can help! With 20+ years in the shoe service industry, we've resolved an array of shoe problems and repaired many other items.

Wondering if we can repair an item you have? Let us take a look. Due to varying construction methods, materials and level of wear, we must see what we're working with to give you advice. Come by the shop with your item(s) and let's talk.
WHY REPAIR?
Repairing shoes is one of the oldest forms of recycling. By having your shoes repaired, you're keeping them out of the landfill and saving money. Many times the style of shoe is no longer available or just too comfortable to toss, but wearing your shoes without repair can affect your walk and stance, causing foot, ankle, knee and hip pain.  So don't delay in having your shoe issues resolved, we are here to help you look and feel your best!
OUR SERVICES
Resole Shoes & Boots
Men & Women's
HeelsResole
Birkenstock's
Shoe Stretching
Clean & Condition
Polish
Patch Tears
Replace Handbag Straps
Zippers in Boots, Jackets & Bags
Baseball Glove Re-Lacing & Repair
Sew Patches on Jackets, Bags & Hats
And so much more!
OUR MACHINES
Landis L Stitcher
Ah, for the days of old when soles were stitched on!  For those shoes that have a Goodyear welt, the new sole is glued and then stitched on with this machine.  The Landis L makes a lock stitch securing the sole to the welt.
Claes Patching Machine
A world class sewing machine made in Germany.  This sewing machine is our go-to stitcher for patching shoes, sewing zippers in boots, jackets and just about everything else.
Finisher
Almost every shoe that comes in our shop touches this machine. Also German made, this machine trims heels, sands the edges of new soles and "irons" the ink onto the edges.  
Here's what our Customers have to say
★★★★★

I am always very satisfied with not only the service but they take time to explain what they will be doing to repair my shoes/coat zipper/handbag. Best place for this type of service PLUS they are super friendly.

Barbara E.

Lexington, VA
★★★★★

Friendly, knowledgeable folks. Personal attention, so much nicer than the bigger stores. Great Italian handbags 👜 at reasonable prices. Makes older leather pieces come alive without losing it's character.

Chris B.

Lexington, VA
★★★★★

As always, timely and quality repair to whatever I bring this business.

Doug S.

Lexington, VA
★★★★★

The owners are always pleasant, courteous and friendly. Their workmanship is great. Will refer customers to this shop without hesitation.

Jamie D.

Lexington, VA
★★★★★

Greg and Sara are AWESOME... Friendly, prompt and the workmanship exceeded our expectations. We will be long term customers..

Scott D.

Lexington, VA
★★★★★

Repeatedly satisfying service, friendliness, and quality work from Cobblestone Shoe and Leather. I highly recommend them.

Marcia B.

Los Angeles, CA